Ahoy! Check Out the 7 Steps Into Website Usability!
JessicaBennett, 10 months ago
0
15 min

read
324
Friends, Web Designers, and Developers!
By the BIllions of Blue Blistering Barnacles, web designers, there is a hailstorm of a design trend headed your way! That's all about website usability that would increase customer engagement – ready for that yet? 
If not, then have a look at this –
It happens to be the site of one of the established brands across the globe! With the website that they have canvassed, boosting conversion rates further is only a matter of time. Such sites spike usability and bring in the quotient of convenience.
With the growing dependence on user experience, website developers and designers know better than to ignore the target audience. This not just fetches traffic, but also boosts the SERP, considering that the latest Google algorithm demands user experience at its best.
While brands have started using user feedback to 
Establish brand loyalty, 

Boost user engagement, and

Chisel content strategies
-via insights offered by users, in-depth knowledge about how to improve website usability is a must for this digital era. The business prospects are widened and your targeted audience engaged with a user experience that ensures smoother navigation, easier-on-the-eyes design, and advanced UI. 
However, before starting on with the prospects that it would fetch, you would need to know all about web usability and a handbook that comprises steps to website usability that includes –
Step 1: Create task analyses and determine metrics
Step 2: Identify the best type of test
Learnability

Eye-tracking

Benchmark

Unmoderated remote

Moderated remote

Moderated in-person
Step 3: Find valid participants
Step 4: Decide Who, When, and Where
Step 5: Rinse and repeat
Step 6: Follow the WCAG standards
Step 7: Create a visual hierarchy
So, all hands on deck! Ahoy Digital Sailors, wave off that mast and sail into the best tactic-waters that would make your site, one to be sought-after!
Website Usability – What's it?
True that website designing and developing fetches investment – financially, effort, and time-wise. Then again, it is equally important that these efforts bring out the desired results of boosted conversion rates. At this digital realm, with customer-centricity reigning at its core, web usability is the pivotal concern. 
Remember, now your targeted audience has a lot of alternatives in case your site proves to be user-unfriendly. Consequently, making your website beneficial for users is absolute. If words fail to convince you into channelizing your website designing and usability, then feast your eyes on a few numbers that prove the same!
A Glance at a Few Numbers on Website Usability
So, what is an excellent user experience yielding website? Let's site an example –
Imagine walking into an art exhibition and looking for a specific painting. The crowd of the other paintings would befuddle you, wouldn't it? So how to boost user experience in this? Well, simple enough! Grab on a roadmap into the exhibition and if possible guidance from an expert in the area!
Now, that's some improvisation on user experience. That should be your blueprint when you are dealing with boosting the usability of a site.
We keep on reiterating the significance that usability and user experience holds in this pandemic-affected-start-of-the-decade. But why are we so confident about this? 
Trust us, when we say that a lot of research went into this and we noticed substantial improvement in the conversion rates when designers and developers prioritized their users. Here are some figures backing our statement –
52% of users fail to return to a site

owing to its faulty aesthetics.

An estimated

55% of brands conduct user experience testing

.

Approximately

52% of online users

breed in their loyalty to a site considering that it is a quick loading page.

3

9% of users do not engage with the content in

 case the loading time of the site is too high.

Only

30% of users wait for 6 to 10 seconds

for a site to load.

94% of the clients

base their judgment of a site (and in a domino effect, the brand) via a responsive design of the web.

An improvised UX experience boosts a company's KPIs to an

83% conversion rate

.

An estimated

8 out of 10 clients

are more than ready to pay more in case of excellent customer experience.

70% of clients

leave their purchase unfinished owing to poor user experience.
Phew! That was some extensive statistics proving the role that web usability holds for any web developer and designer. 
So, what exactly comprises an excellent site usability? That brings us to our next stop – the features of a good user interface. Hop on!
Count the Features of a Usable Website!
See this site? It seems so easy-on-the-eyes and for navigation, doesn't it? So what is the secret of such sites that reeks of usability? Here is the complete guide to it –
Relevant content

Use of the latest web technologies and designs

Optimized for multiple platforms

Smooth performance

Speedy loading

Responsive website design

Easy-to-recognize and trustworthy clickables

Secure SSL-encrypted site

A credible site with optimum round-the-clock customer support

Convenient navigation

Clean page structure

Scannable and consistent appearance

Straightforward CTA tone (Call To Action tone)

Ease of accessibility for all users

Browser compatibility

Excellent error handling

Clear and clean codes and valid mark-ups

Easy-to-fill-in forms, if any.

Soothing contrast color schemes
It seems like a lot of ingredients for your final dish, aka, a usable site, doesn't it? Well, with the right recipe and an expert chef's (aka user experience consultant) guidance, it would be an easy procedure. Here are your well-organized steps to smoothen the usability of a site. Check them out!
Climb the Steps to Website Usability
Considering that by now, you have a complete idea about the building blocks for web designing, development, and usability, there is a need for a roadmap to follow through the process. So, here are the steps to boost the usability of your website that would spike your customer conversion rate –
Step 1: Create Task Analyses and Determine Metrics
The ice-breaker of website usability guidelines is 'going local', meaning that you would need to determine the metrics of your website. Usability testing will bring forth several issues. With an absolute idea of the brand-specific requirements, the effort put in to boost a site's usability will prove to be fruitful.
Of the three major metrics that are involved in usability testing are –
User satisfaction

The efficiency of the site

Effectiveness of the website
In this regard, designers and developers need to consider their target audience's requirements, steps to meet the same, and a measure of the efforts made to spike the usability of a site. 
It is where task analyses come into play because it has a crucial part in the usability of websites. It computes two metrics specifically that has a direct impact on usability –
Time on tasks

Rates of task completion
Such task analyses are especially useful for brands that rely heavily on the human-centered design process. The process enables teams to observe users, collect information on structuring your site, arranging content, conduct usability tests, etc. This 
captures a user's journey across the site and 

reviews this analysis before a feature update.
The performance of task analysis involves –
Identifying the task to be analyzed

Decomposing this task into parts or sub-tasks

Observing clients conducting tasks

Sketch out a diagram for layered tasks

Spinout the story

Conduct validation of the findings

Carry out result analysis
Step 2: Identify the Best Type of Test
This step is largely dependent on the first one – the determination of metrics. Based on your chosen metrics, you will be settling upon a usability testing mode that caters to your investment and challenges registered under the metrics. 
So, in case you are looking for some of the best usability testing options, here are a few of the best in the market, as of now –
Did you know – 
38% of clients stop engaging with a site

in case layout or content is unattentive?

A minor

1% improvement in client retention results in a 7% boost

in the bottom-line revenue.
The prospect of the revenue generation brings in the need to rely on learnability. In cases of challenges faced via website usage, they will tend to leave the site at the earliest. 
With the immense competition in the digital realm, their options are diverse and would present them with choices. To meet this challenge, make sure to base this on learnability testing. 
It will help you fathom out website usage and the accomplishment of various tasks.
In this kind of testing, individuals would need to look into errors and look for designs that would appease the clients.
Just as the name suggests, this testing mode reflects exactly where on your site your clients have been staring. It tracks the motion of the eye and looks into its area of focus. This software can be imagined to be like heat maps; wherein, the colors indicated the length of time where clients have kept gazing. 
With the benchmark testing method, the collected data represents the level of website performance. In this case, participants undertake tasks on your site and on that of your competitor. It ensures a comparison between the two and showcases, which of the two promotes better user experience.
Take a look at the image below to understand the nature of the data provided by the benchmark method.
In the case of unmoderated remote testing methods, the administrator-in-charge assigns individuals in various locations with tests. They are needed to interact with the software. The data needs to be collated, and administrators may, at times, have the provision to record the participant's screen.
Here is all that is required for this testing mode –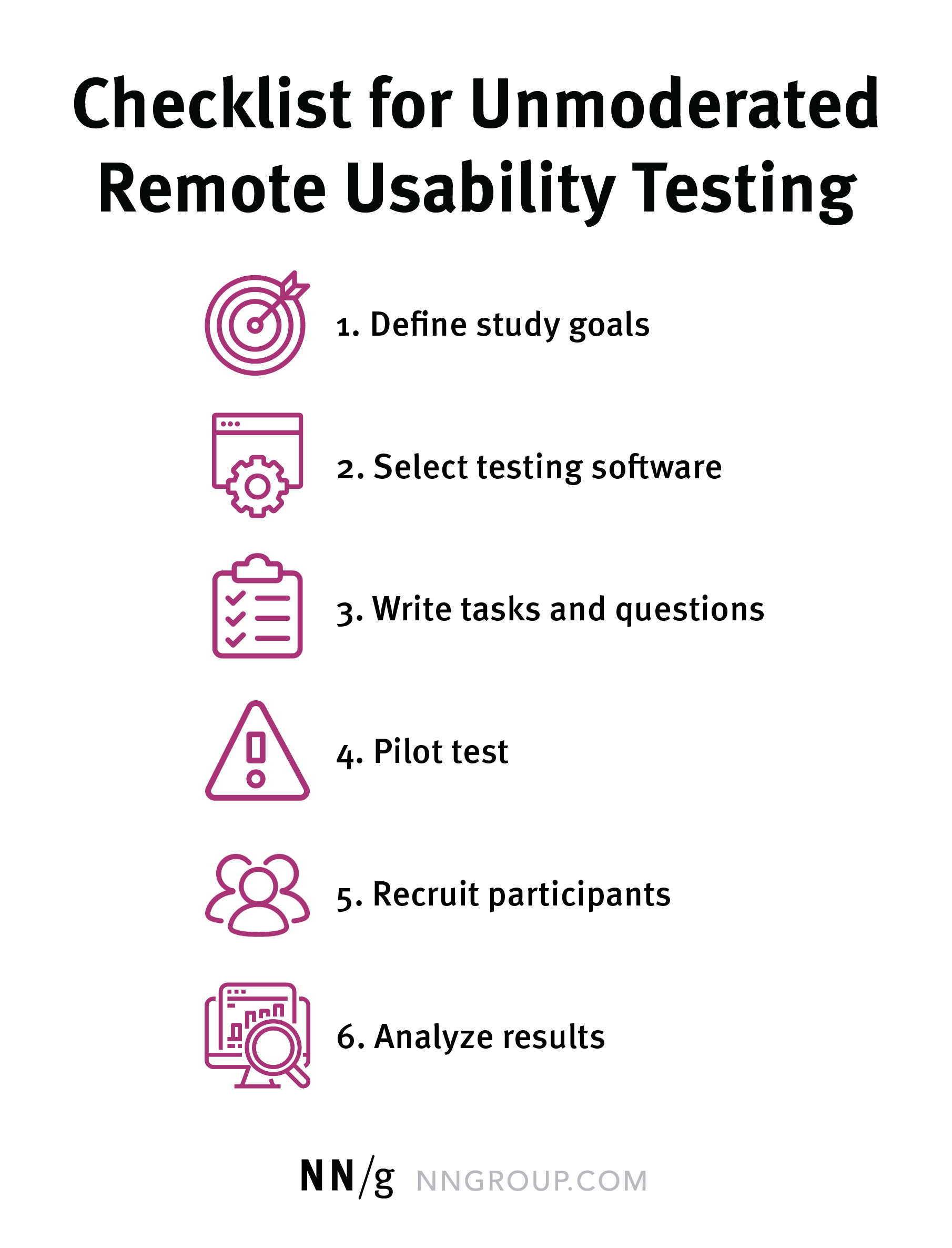 A facilitator and a participant are placed in different locations, and the latter is provided tests that are carried out over screen-sharing software. Subsequently, the facilitator observes the usage of this software by the participant and locates any issues that might have occurred in its flow.
The plan of this model can be chalked out as follows –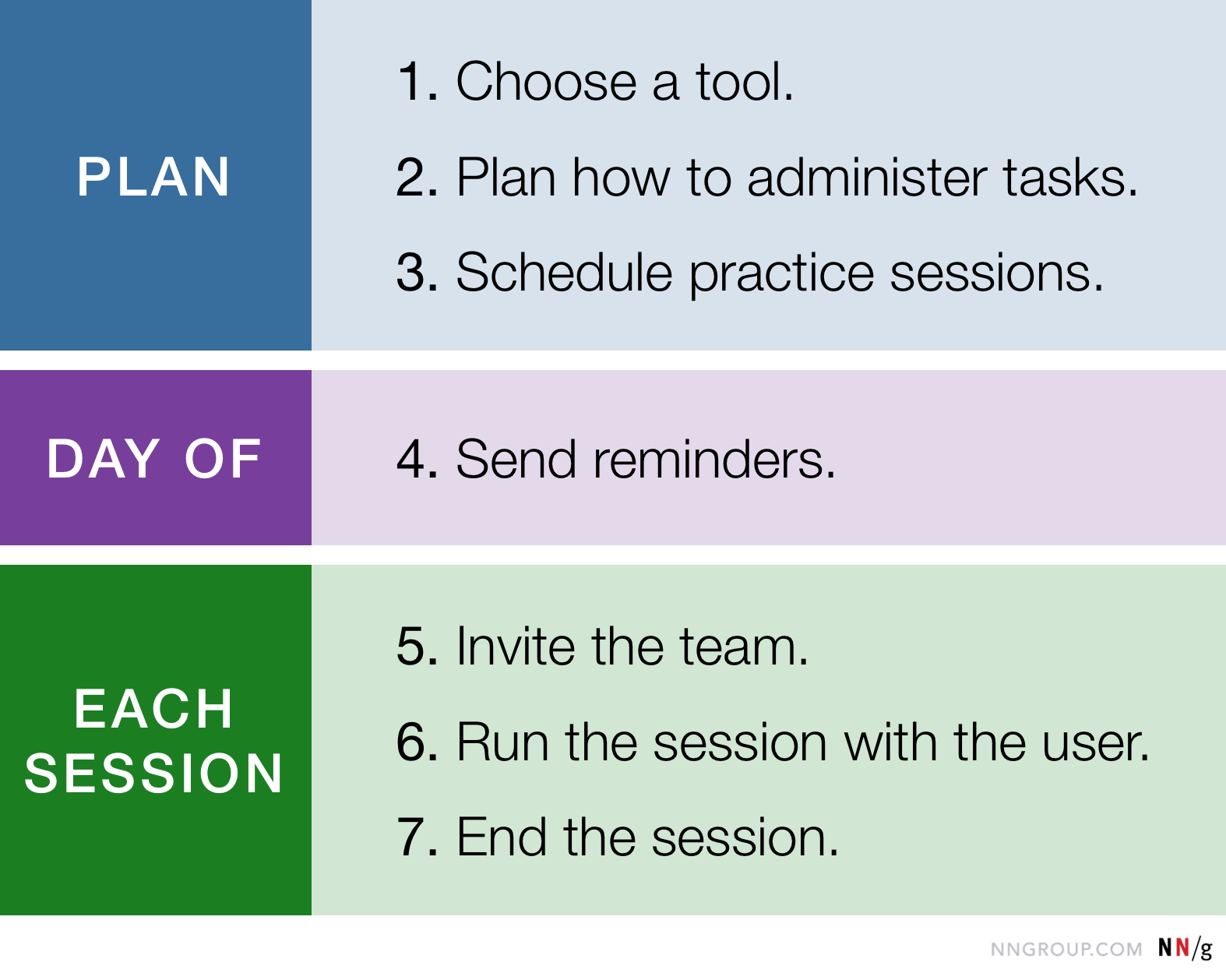 A facilitator is identified along with a single participant or an entire group. They are then asked to respond to feedback or answer questions, as and when required. Suh answers reveal the flaws of the software flow, and it is preferred to take this test in a lab wherein the ambiance is controlled.
Among the in-person, monitored, and unmonitored usability testing, the differences are marginal. Individuals need to take a look into the differences (as mentioned below) and then avail one that best suits their brand-requirements.
Step 3: Find Valid Participants
As per industry standard, you would need a minimum of 5 individuals to conduct a usability test.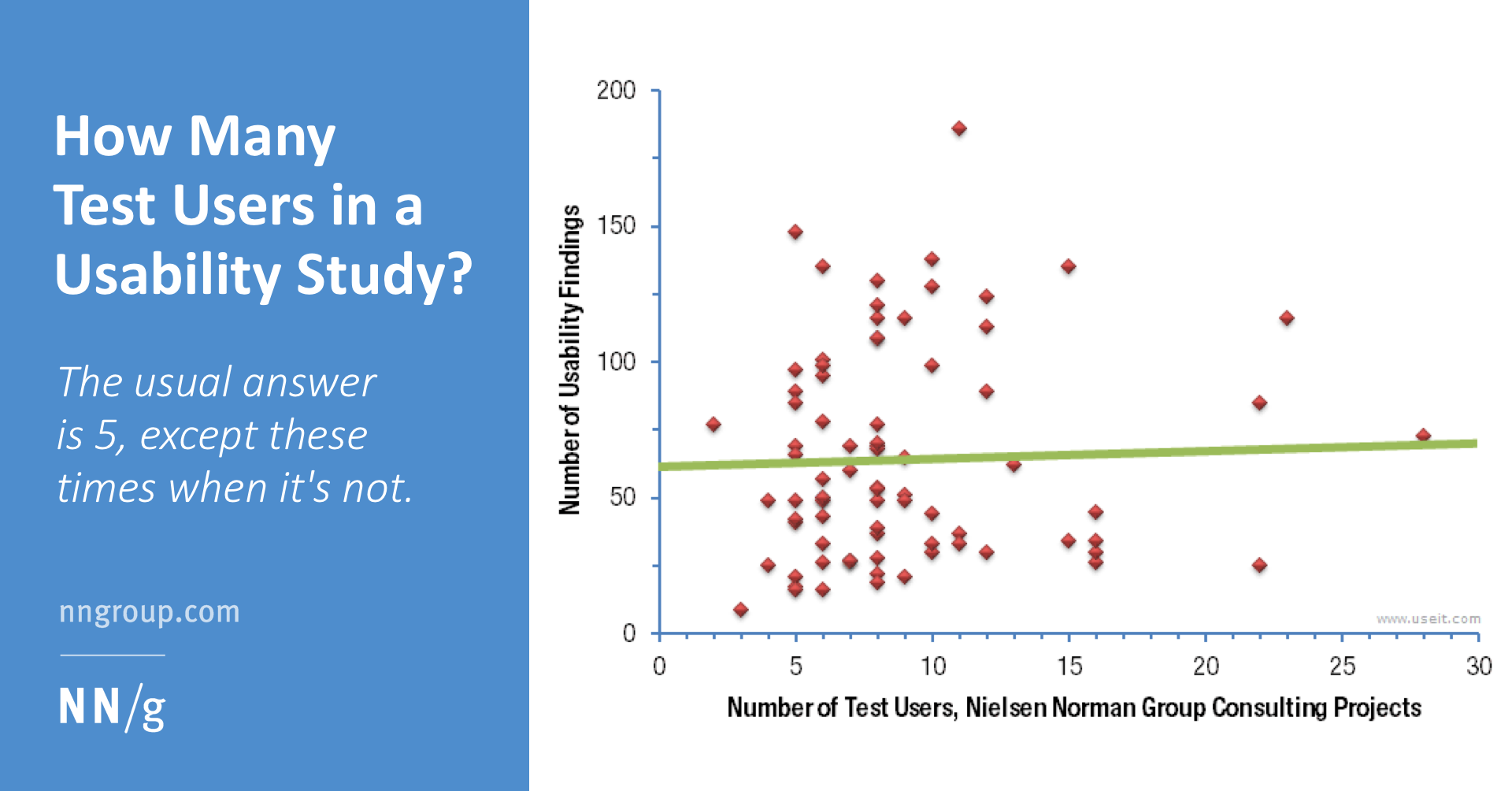 Based on this, surveys have found that  
While internal testing is valuable, external validity is of the utmost importance when it comes to quick feedback. True that gathering users is challenging. To meet this hurdle, you can always send out surveys via your business email list to prospective customers and screen them. To lure them into becoming participants, you can always give them an added edge of incentives.
Step 4: Decide Who, When, and Where
It is one of the comparatively easy steps wherein it all depends on your last steps. This one involves answers to a few questions that involve a flowchart sort of process. 
Question 1: In-person or remote?
Question 2: Moderated or unmoderated?
Answers: These decisions have already been made in the step where you opted for the testing mode.
In other terms, the moderated and remote modes are both used equally across the entire industry, irrespective of the genre of their trade. However, remote testing has slightly gained an inch over the last few years. It can be attributed to the fact that moderating testing, despite offering users with more control, presents multiple logistical challenges for the user and the tester, alike. It is much more plausible when it comes to in-person testing.
With moderated testing, the needs for them arises only when –
Case 1: Security is a core concern.
Case 2: There are incomplete interfaces.
With unmoderated testing, flexibility is a major advantage. In this case, the need is synced with the convenience of the participants, and whenever they want to perform their designated works. 
For in-person testing, the ideal place for testing would be the participant's natural environment or a usability lab that is designated for the purpose. It caters to the need to prevent artificial conditions.
In cases of remote testing, multiple platforms are free to avail. It includes –
Zoom

Google hangout

Skype
Step 5: Rinse and Repeat
Much like 'practice makes a man perfect', reiterating the website usability guidelines is the way to improvise the usability of a website. It includes
Developing and designing a website

Testing the same

Tweaking with the user feedback

Improvising the site
The cycle of usability ensures that the mixed bag obtained that comprises qualitative and quantitative data is put to proper use and the result? A unique site that boasts of premium user experience.
Step 6: Follow the WCAG Standards
Before we start on with this bonus step, look into the digital accessibility testing market dated from 2016 to 2066. 
While the accessibility to the digital space continues to boost, there is a particular trend that needs to be taken into account. The globe stands at 15% of the population experiencing one or the other form of disability. 
What cannot be ignored is that this portion of the population has a high spending power that can amount to almost half-trillion dollars. Creating a site that is not accessible to them means losing out business on this purchasing power. 
It brings us to the WCAG that takes into account the web accessibility for diverse disabilities that cover issues related to –
Visual

Neurological

Physical

Auditory

Speech

Cognitive
This set of guidelines comprises four core principles that go by –
So, how can you grab on this slice of the targeted audience? Here are a few of the top solutions –
Avoid using conflicting colors that aren't processible by visually disabled clients.

Add on captions to your video content that caters to individuals with hearing disabilities.

Prevent the usage of flashing lights that might trigger seizures from users with issues regarding light-sensitivity.
Step 7: Create a Visual Hierarchy
As per statistics, your site visitors require a mere 2.6 seconds to form an idea regarding your brand post their first impression. They lay their eyes on a specific area of a site, and their impression is an involuntary consequence.

So, this leads us to the conclusion that you need to ensure that your website needs to be clean enough for your client to spot a single clear image. Do not clutter your page with multiple images that would mean multiple diversions for your potential clients, leading to confusion, leading to indecisiveness about your brand.
Under such circumstances, visual hierarchy is one of the best options. It rearranges images to draw the limelight on the most crucial one, one that best represents your brand and its motto, the best.

It ensures that you guide your prospective clientele to the important components of your site. Here are a few basic aspects that you need to keep in mind while designing the visual hierarchy for your site –
Alignment

Size

Position

Colour

Negative space

Contrast
For those looking for the impact that this technique fetches, here is a site that is gaining rapid popularity among e-shoppers. Look into the visual hierarchy applied to the site, and you would know the first impression of potential clients that is the secret behind this brand, gaining its reputation among its competitors.
Source: https://www.unifiedinfotech.net/assets/images/[email protected]
Do look into the color contrast, usage of white space, text fonts, and the alignment of the site banners. It would help you get an estimate of the endeavors required while designing a visual hierarchy for a site.
In a Nutshell
Had Captain Haddock walked out of Hergé's cartoons, this 2020 he would have been yelling at his Siri, "Blistering blundering birdbrain Siri! What is this Cachinnating cockatoo COVID-19?" 
Such is the advancement of technology and voice searches this decade! Doesn't your site need to stand tall with these trend-storms headed its way?
Despite the strengthening efforts of Coronavirus to cripple mankind in all its aspects, we stand strong, and so does the ever-evolving digital space. So, deck up your site and buckle up with your trade-endeavors! This decade will be your brand's decade only if you could know the essence of website usability and its tricks and tips!
So, yell, "Red Rackham's treasure of Digital space, here we come!!!" and dive into this sea today!
JessicaBennett
Jessica is an individual contributor for various leading publications. Writing about technology, design and the latest innovations is her primary knack. She also works for
Unified Infotech
, a technology service provider serving startups and enterprises. While not writing, Jessica can be found chilling with her martini.
Related posts