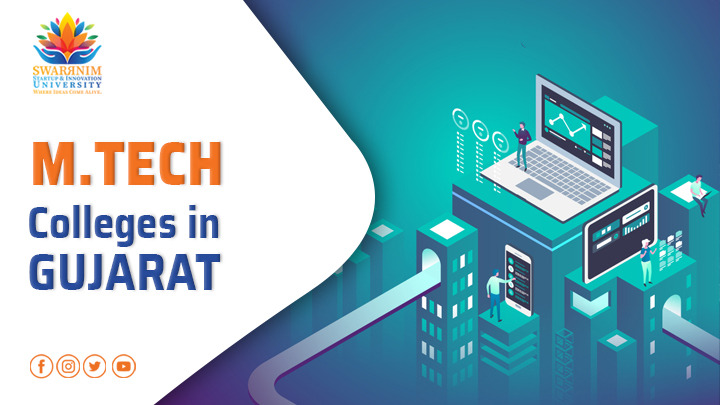 The Masters of Technology (M. Tech) is a highly specialised postgraduate degree earned for studies in one of the Engineering Sciences. The study duration of M. Tech programmes in Gujarat is 2 years. Many UGC approved universities and affiliated colleges offer the degree. But the question arises which is the best University or college in Gujarat to pursue higher studies? If you are from Gujarat of outside state or an international student thinking of pursuing masters from Gujarat then this blog may help you in selecting the best from many M. Tech Colleges in Gujarat. The colleges and universities can be judges on the basis of their course design, industry tie-ups, placement, infrastructure and labs. When people talk about choosing a good college or university, they usually discuss college rankings. Let us disclose the fact that rankings are given on various parameters and at times it may include simply the land of the campus. If you dive into their methodologies, you may find that they don't place enough emphasis upon the factors that really matter to you such as faculties, course curriculum, startup & innovations at the campus, internship opportunities, labs, etc. Such information which says the basis of ranking is not always revealed and people get into the trap. Hence, it is always advisable to measure any college or university on the criteria mentioned above.
Best College For M.Tech In Gujarat
Swarrnim Startup and Innovation University is established to promote startup culture in India. We make all efforts to keep the course curriculum updated all the time. We invite people from the industry for their inputs on the same. Hence our postgraduates need no additional training when they join the industry as an employee or as an entrepreneur. Not only the course design but the university also fulfilled all the criteria mentioned here, which are accepted universally as well, and that makes us the Best College for M. Tech in Gujarat. Our M. Tech courses are offered in Mechanical engg., Swarrnim University has maintained a 100% placement record for the last three years. Our industry oriented courses play a major role to achieve this milestone. As industry experts design and teach courses at the campus, they prefer their students for recruitments. Moreover, Swarrnim Incubation Center provides 360-degree support to all ideas of students. It has already incubated 15+ startups and released funding of Rs. 50+ Lacs. The university has add on courses on startups and entrepreneurship to fulfill the dreams of students.
The university is backed by ultra-modern infrastructure with excellent hostel facilities, canteen, playgrounds, libraries, etc. The state of art Labs makes the campus class apart. It has India's first Apple iOS lab, Environmental Lab which is authorized as Schedule I auditor for industry, IIT Roorkee virtual lab, and more. The equipment and tools we have in our labs for all branches are modern and replicate what is used by industries.
Hence if you are looking for M. Tech Colleges in Gujarat, visit Swarrnim campus. You feel surely feel the difference. The university attempt to address all concerns of students. It has in-house counsellors for students help and support. We organize frequent workshops, seminars, expert lectures to keep our students updated with time. During the lockdown period we have organized 100+ webinars for our students. You will find no dull oment at the campus and that makes us the Best College for M. Tech in Gujarat.