Top Reasons To Get a Blockchain Certification
101blockchains, 10 months ago
0
4 min

read
157
Blockchain has been gaining attention recently and is one of the most demanded technologies due to its diverse functionalities. The arrival of Bitcoin and its subsequent rise to popularity created new avenues for the progress of Blockchain technology. Blockchain technology is one of the most crucial technological innovations that has been increasingly becoming popular in recent years. 
"The annual expenditures on Blockchain solutions are expected to reach a value of almost $16 billion by 2023."
Organizations worldwide are utilizing powerful technology for their benefit. So, the demand of a Blockchain certification is highly crucial in present times with Blockchain technology finding its way into different industries. Is it really worth it? The following discussion will help you find the answer!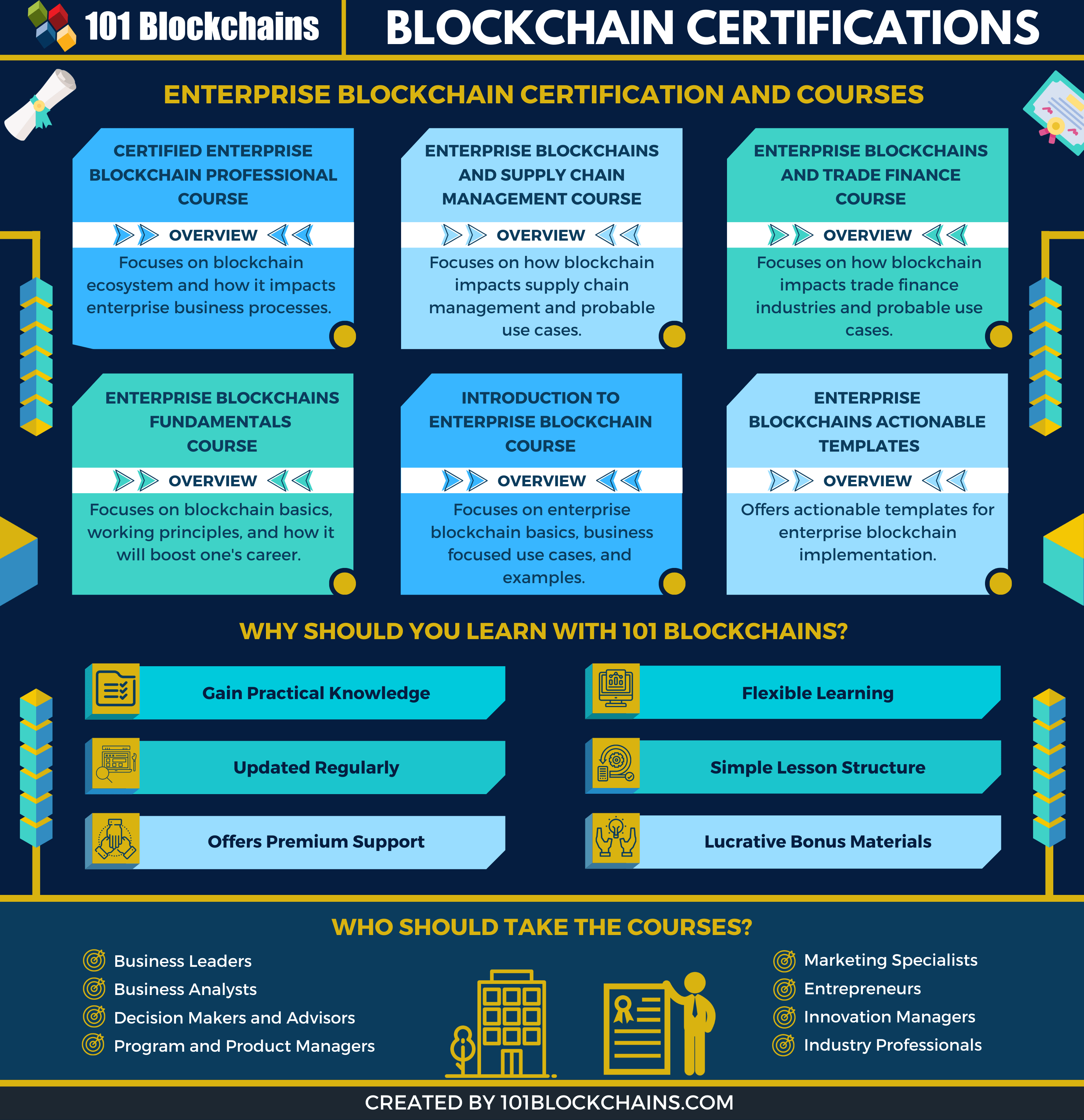 Why is Blockchain So Important Now?
One of the foremost facts that emphasises on the significance of Blockchain certification is the skill gap. The Blockchain industry does not require only developers but also skilled professionals for other specialisations such as receptionists, shipping clerks, stockbrokers, security guards, and marketing professionals. 
The common perception regarding the suitability of Blockchain technology for banking purposes is one of the ambiguities regarding Blockchain certifications. However, you should note the application of Blockchain technology in various notable technologies. 
For example, Blockchain technology is evident in messaging apps such as Telegram, critical infrastructure security through Bock chain-based key less signature infrastructure. Therefore, you can clearly notice the potential for career opportunities in the field of Blockchain technology. 
Here are some of the notable reasons that can strengthen the resolve of an individual to pursue Blockchain certification. 
Potential for Leveraging Functionalities of Large Infrastructure 
The massive infrastructure of Blockchain technology and distributed ledger systems is one of the first reasons to pursue Blockchain certifications. You can easily integrate Blockchain technology into current systems. Any enterprise could access Blockchain infrastructure and use them for their operations. 
The single infrastructure connected with the other markets can also provide a reliable boost for productivity. As a result, you can clearly notice the lack of any setbacks in the integration of Blockchain infrastructure into existing processes. Blockchain could be integrated through advanced technologies like artificial intelligence and machine learning for achieving better results. 
Therefore, Blockchain has the potential for creating disruptions across various sectors through its universal infrastructure. Blockchain certification provides you the perfect instrument for finding career opportunities in various industries. 
Diverse Career Opportunities 
Many industries are open to Blockchain technology, and you have access to many career opportunities. However, it is important to note that Blockchain certification can help you explore other roles in the Blockchain landscape. 
Employers are constantly looking for candidates skilled in Blockchain technology for various roles. Some of the notable roles include cryptocurrency analyst, senior software engineer, cryptocurrency trader, Bitcoin full-stack developer, systems engineer, cloud engineer, and the basis of all, cryptocurrency developer. 
Demand for Blockchain Security and Identity
Blockchain certifications are a great instrument for proving your skills in enhancing the aspects of data security and digital identity. Blockchain is a reliable support for improving safeguards for sensitive data such as personal, identity, and financial data. Candidates with Blockchain certifications could become reliable prospects for banks, merchants, and online platforms with sensitive data. 
The general web infrastructure is filled with various vulnerabilities to hacking, data leaks, and online fraud. However, the implementation of Blockchain changes the picture completely. Rather than being stored on a single instance database, Blockchain stores data with encryption on a distributed network. Therefore, enterprises can ensure better control over access to data, and a certification can prove your abilities to ensure the same. 
One of the notable factors that showcase the reason for choosing Blockchain certification is the skill gap. Enterprises want to gain the benefits of Blockchain technology, and many of them work on different ways to utilise Blockchain for their benefit. However, there are not so many skilled professionals as enterprises require. 
On average, almost 5000 professionals among 2 million software developers do not have Blockchain skills. In the period between 2017 and 2018, the demand for Blockchain developers has increased by around 75%. This fact clearly strengthens the impression regarding the bright future of career scope in Blockchain.
Blockchain is Slowly Approaching Inflection
It is also essential to note that Blockchain technology is bringing the world to an inflection point slowly. Gradually, Blockchain technology would impose direct influence on ways for conducting business. The financial institutions and other industries have constantly acknowledged the potential of Blockchain technology courses. 
However, many predictions also suggest that Blockchain technology would be accessible to critical mass by 2024. 
Final Words
So, you can clearly notice that Blockchain technology is the technology of the future. Blockchain certification is your key to enter this field and build your career in new and innovative roles. 
The primary objective of certifications focuses largely on improving knowledge about the Blockchain ecosystem, Blockchain attacks, smart contracts, consensus algorithms, and peer-to-peer networks. Furthermore, you can also use Blockchain certifications for developing comprehensive expertise in various Blockchain use cases. 
Candidates aspiring for Blockchain careers could use Blockchain certifications for building their knowledge from scratch. Therefore, while there are many reasons to pursue Blockchain certifications, there is none not to! 
101blockchains
101 Blockchains is the world's leading online independent research-based network for Enterprise Blockchain Practitioners. We are a professional and trusted provider of enterprise blockchain research, advisory, and professional training. Our core mission is to help leading enterprise professionals to become global blockchain experts by providing them with practical up-to-date knowledge and upskilling.
Related posts