What is The Google SkillShop?
mexseo, 9 months ago
15 min

read
96
Google Skillshop is worth your time and effort if you want to advance your digital marketing career.
The online platform offers solid learning materials to expand your skills and a range of certifications to validate your knowledge.
In this guide I will give you a complete overview of the Google Skillshop program, how it works and how it can benefit your career.
What is Google Skillshop?
Google Skillshop is a training and certification center for professionals using Google's marketing tools and other programs.
There are courses that teach how to use different Google solutions like Google Ads, Google Analytics, YouTube and more.
You can also earn certifications that demonstrate your knowledge of a specific area of ​​Google marketing.
Each certification includes a series of related lessons that prepare you for a final assessment. After passing the exam, you will receive the certificate.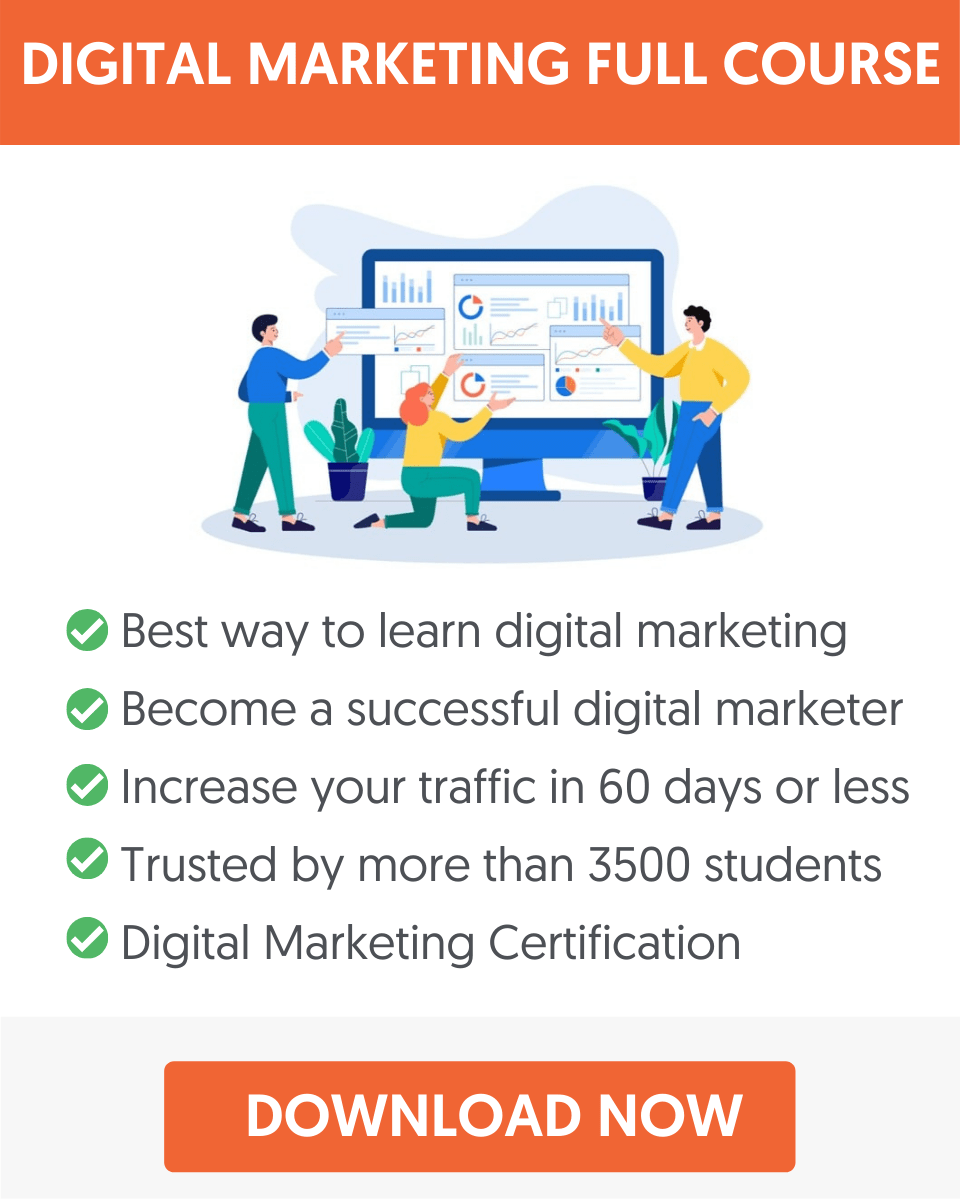 Google Skillshop courses are self-paced, so you can take them as fast or slow as you like.
Is Google Skillshop free?
All Google Skillshop courses and certifications are free. All you have to do is create a Skillshop account and access the material.
Previously, the program charged for taking the exams. But since the Google Academy for Ads was renamed Skillshop, the program is free for all users.
Courses and certifications offered by Google Skillshop
Google Skillshop offers courses in various subject areas including Google Ads, Google for Education, Google Cloud and more.
Here is a complete list of all courses offered by Google Skillshop.
Google Ads display certification

Google Search Ads Certification

Google Shopping Ads Certification

Google Ads measurement certification

Google Ads-Videozertifizierung

Certification for Google Ads apps
As a digital marketer , the Google Ads courses are the most interesting. You can also find the various certifications for Google Ads here.
Google Ads display certification
This certification validates your ability to create effective strategies and campaigns using the Google Display Network.
Certified advertisers know how to increase brand awareness, create a plan to reach new customers with Google Display Audiences, and retain existing customers.
The course includes the following lessons:
Grow your business with Google Ads

Identify campaign types in Google Display Ads

Reach users with Google Display ads

Increase efficiency with automated bidding

Deliver the right message in Google Display ads

Increase conversions with the performance planner
Google Search Ads Certification
This certification validates your ability to create effective Google search campaigns . After completing the certification, you'll understand everything from ad extensions to bid strategies.
The following courses serve to prepare for the certification:
Grow your business with Google Ads

Discover the value of Google search

Information about the Google Ads auction

Deliver the right message with text ads

Make ads relevant with Search Ad Extensions

Increase efficiency with automated bidding

Reach valued customers with search audiences

Increase performance with the optimization factor

Increase conversion with performance planner
Google Shopping Ads Certification
This certification validates your ability to create and optimize Google Shopping campaigns. After completing the assessment, you will know how to:
Use showcase shopping ads to reach customers early in their customer journey

Use smart shopping campaigns

Bring shoppers to your local store
The following courses serve to prepare for the exam:
Grow your retail business with Google

Reach more customers with shopping campaigns

Attract more in-store shoppers with local product ads

Promote your brand with showcase shopping ads

Grow your business with Google Ads

Increase efficiency with automated bidding

Increase conversions with the performance planner
In total, there are almost two hours of course material.
Google Ads measurement certification
This certification shows that you can use various Google measurement solutions to evaluate and optimize the performance of your digital ads. Upon completion you will know how to:
Set up tracking to measure sales, downloads, leads, and other conversions

Choose the best attribution model for your business goals

Translate your marketing goals into measurable actions

Take action based on insights from conversion data
The following courses will help you prepare for the exam:
Turn business goals into marketing goals

Assign a value to what is being measured

Evaluate results and take action

Familiarize yourself with conversion tracking

Set up conversion tracking to reach your goals

Analyze and optimize conversion data

Get to know Google My Business

Why they love the Google Marketing Platform
All of this adds up to almost 3.5 hours of course material.
Google Ads-Videozertifizierung
This certification validates your ability to plan and manage successful campaigns using YouTube and other Google Video advertising solutions. After completing the certification, you will know how to:
Use YouTube audiences to improve ad relevance

Use video formats to increase brand awareness and drive promotions

Develop creative strategies to tell brand stories.
The following courses serve to prepare for the exam:
Discover the value of YouTube

Connect with your audience on YouTube

Understand video ad formats

Discover Creative Essentials for YouTube

YouTube for Action verstehen
There is a total of over 2.5 hours of course material.
Certification for Google Ads apps
This certification shows you how to drive business impact with Google App Campaigns. After completing the certification, you will know how to:
Create app campaigns to achieve specific marketing goals

Use advanced strategies to increase performance

Improve app quality and discoverability
The following courses will help you prepare for the final exam:
Understand the apps ecosystem

Explore Google App Campaigns

Define your app campaign goal

Measure what matters in app campaigns

Start with the app campaign settings

Complete with app campaign ad groups and assets

The role of the marketer in app campaigns

Guide the machine for a better app campaign

Create and refine your app campaign

Understand the results of your app campaigns

Optimize the app experience

Expand app reach across all markets
There is a total of 1.5 hours of course material.
In addition to Google Ads certifications, Google Marketing Platform and other certifications are also available through Skillshop. This contains:
Search Ads 360 certification

Campaign Manager Certification

Creative certification

Display and Video 360 certification

Individual Google Analytics qualification

YouTube Music Certification

YouTube Music Rights Management certification

Mobile Experience Certification
Are Google Skillshop certifications recognized?
Google Skillshop certifications are recognized as official Google certifications.
When you pass a certification exam, a link to a digital copy of the certification is added to your account.
The digital certification contains a completion ID, an issue date, and an expiration date.
You can use the digital certification link on your resume or LinkedIn profile.
You also have the option to share your profile link, which allows you to view a single page with all the different certifications you have earned.
How do I get Google Skillshop certification?
Getting started with Skillshop and earning your certifications is a straightforward process.
Let's go through the steps you need to follow:
Step 1: Register for Skillshop
The first step is to register with Skillshop. To do this, you must use your Google account.
Go to Google Skillshop and click the Get Started button . You will be prompted to sign in to your Google account if you are not already signed in. You must then agree to the terms of use.
Once you have done this you will be taken to a page where you can create your profile. You can't change your name or email address, but you can add a company, company email, and recovery email.
You also have the option to connect your Google Ads and Youtube accounts to your Skillshop account.
Once your profile has been set up, you can find the various courses and certifications by clicking the Browse icon in the navigation bar .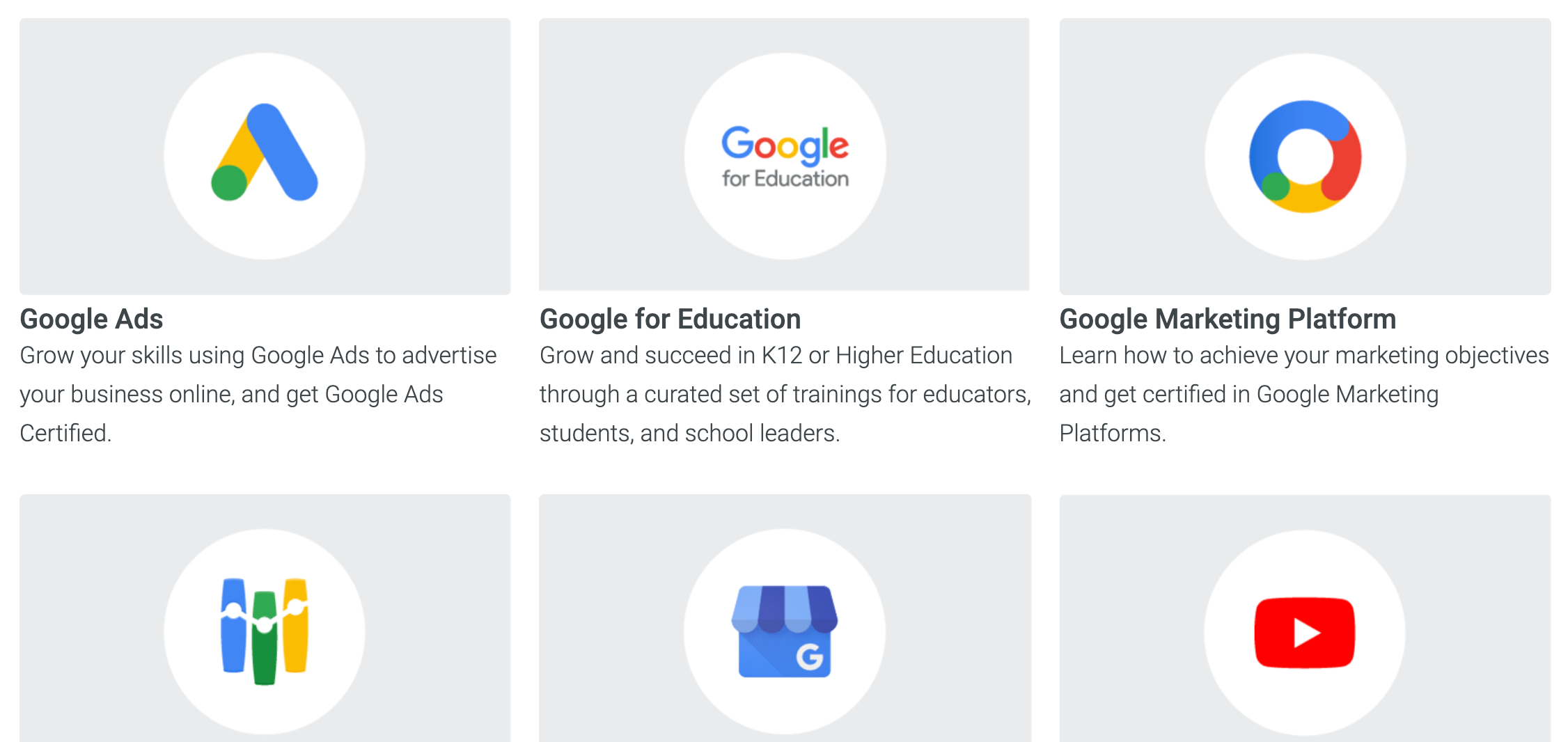 On the next page you will find the following topics:
Google ads

Google for Education

Google Marketing Platform

Analytics Academy

Google My Business
Youtube

Google ad manager

Google Cloud

Waze Basics E-Learning

Google AdMob

Authorized Buyers

Android Enterprise Academy
Go to the Google Ads topic and then to Google Ads Certifications .
There you will see a list of available Google Ads certification programs. Each program displays the total time required to complete the course, skill level, and its assessment score.
Google Ads certifications are not sequential, so you can complete the certifications in any order.
Clicking on a certification takes you to the main page of the course.
You will get a brief overview of the course and what you should learn at the end.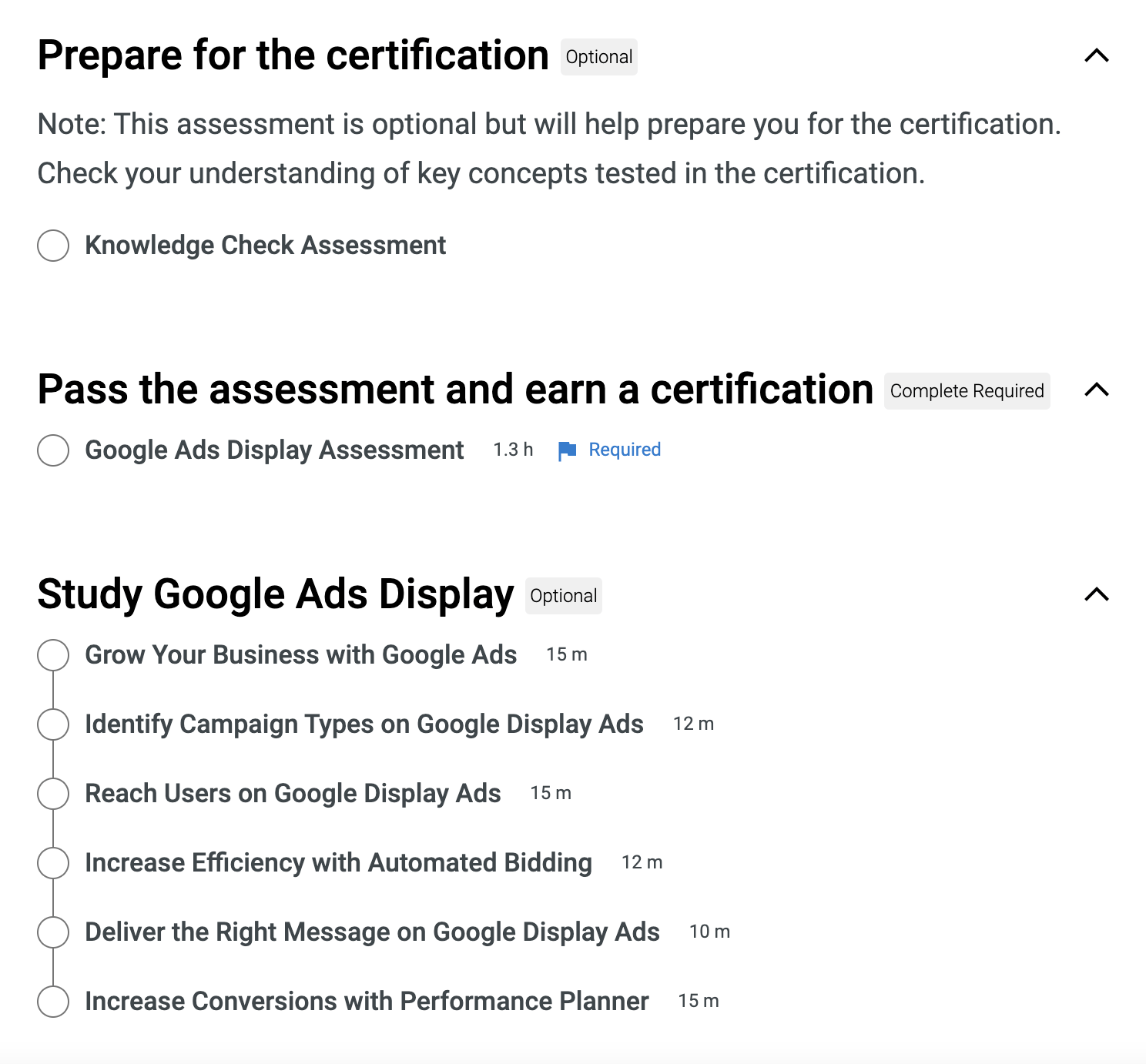 Below are three sections:
Preparing for Certification –

 includes a link to a practice assessment

Pass the exam and get a certification –

 includes a link to the certification exam

Studies –

 contains a list of lessons that contain materials related to the certification subject
Step 2: Prepare for the exam
Each certification includes a list of lessons to help you prepare for the exam.
The lessons are easy to follow and designed with assessment in mind. They mainly consist of text. There are also some interactive elements like bottle maps.
There are short review questions throughout each lesson and a knowledge check at the end. Passing the knowledge check means you have completed the lesson.
You can track the lessons you've completed on the certification's main page.
When you have reviewed all of the material and passed all of the knowledge tests, a tick will appear next to this lesson on the main certification page.
After completing all the lessons, you should review the material to prepare for the exam.
You can also take the Knowledge Check assessment. This is a practice test with around a dozen multiple choice questions.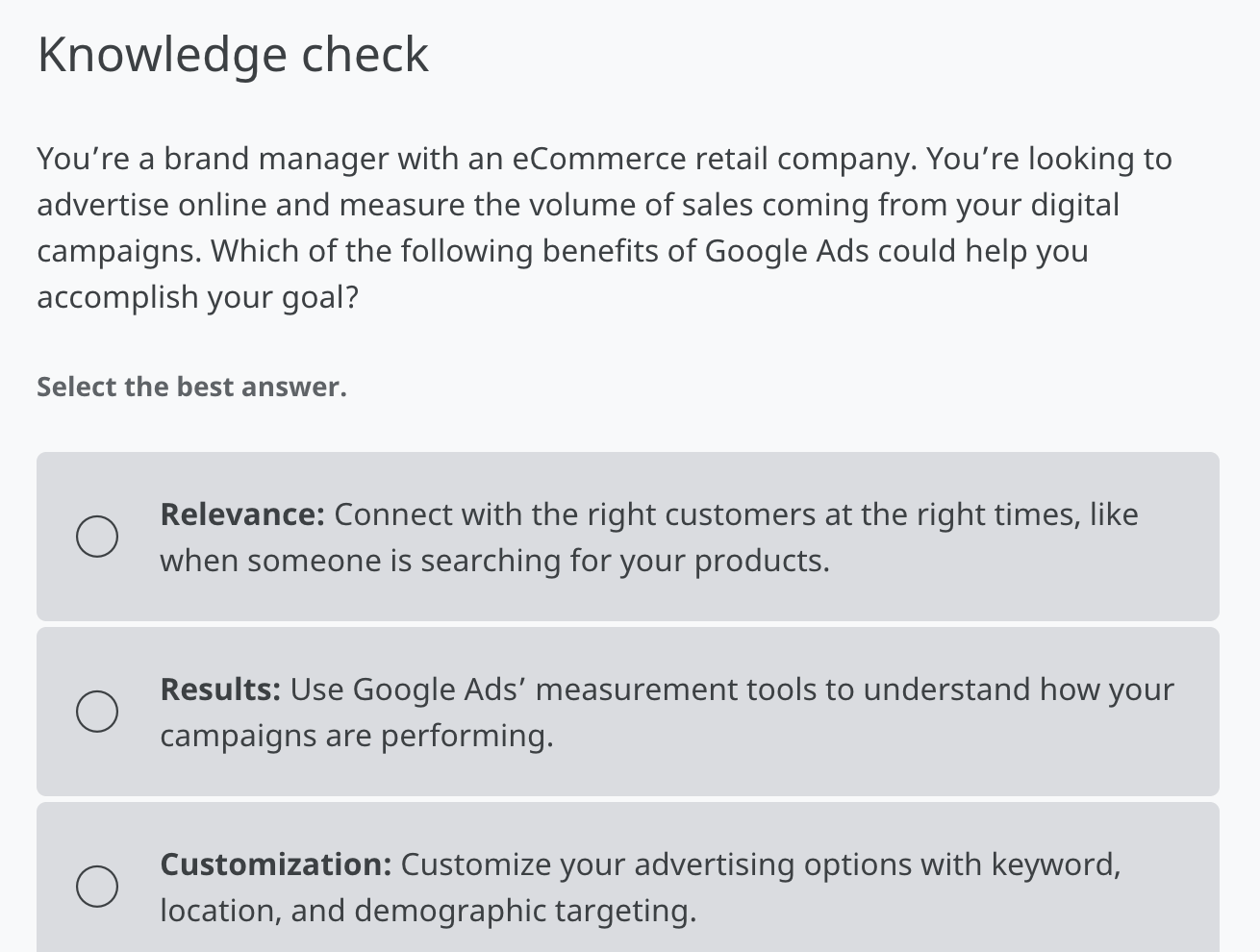 When you complete the practice test, you'll receive a score and a list of questions you got wrong.
This does not include the correct answers to the questions, so you will have to go back to the relevant lessons to review the topics.
Step 3: Take the exam
Assessment for each certification is available online directly through the Skillshop platform.
The exams follow a traditional multiple choice format. You have a time limit of 75 minutes to complete the exam.
The number of questions for each exam varies from 46 to 50 depending on the certification.
The examination period is more than generous given the total number of questions. Most people report that the exam only takes about half of the allotted time.
After you answer a question, you can no longer edit your answers.
Most exams require you to score at least 80% to pass. The only exception is the Google Ads Apps certification, for which you only need a score of 70% or more.
You can take each exam as many times as you like, but you have to wait a day before you can retake it after failing the exam.
When you are ready, click the exam link under the heading Pass the exam and earn certification .
On the next page you will see a disclaimer that you must read before you can start the exam.
Once you click the Start button, the exam will open with the first question.
In the upper right corner of your browser you can see which question number you currently have and how much time you have left.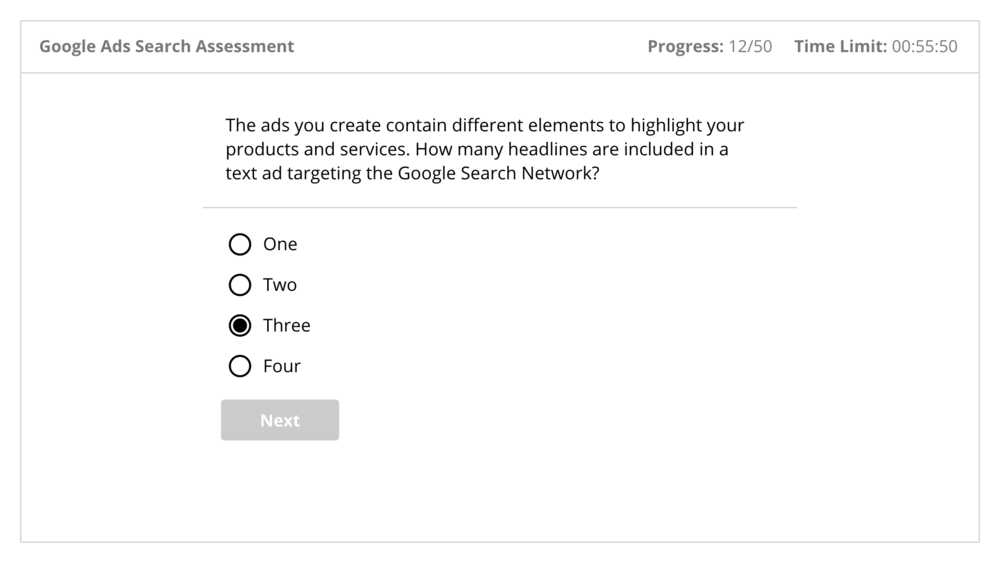 If you close the exam without answering all the questions, this is an automatic error. You must then wait a day before you can take it again.
After you complete the exam, you will be taken to a page where you can see if you passed or failed. You will also receive an email notifying you of the results.
Once you pass the exam, your certification will be immediately available on your Skillshop My Profile page.
All certifications are valid for one year. You can renew the certification by passing the exam again.
This ensures that certificate holders are always aware of the latest changes in Google marketing best practices.
Google Skillshop Options
Google Skillshop isn't the only online training option for marketers looking to improve their knowledge and skills.
Other online courses can help you learn more about Google and other marketing platforms while earning certification.
Here are some of the best alternatives to Google Skillshop.
Digital Marketing Courses
Digital marketing training courses allow you to quickly acquire the skills needed for a successful career in digital marketing .
They cover all the important aspects of digital marketing, including:
content marketing

SEO and keyword research

E-Mail Marketing

Social-Media-Marketing

Paid Advertising

Analyst
With a structured training program, you can learn the most important topics without having to think long and hard about what to study next.
There is no shortage of free and paid digital marketing courses. If you want to learn more, we've put together a guide to the best 
digital marketing courses 
.
Digital Marketing Certifications
Certain online marketing courses award participants with a certificate in digital marketing upon completion of the course requirements.
Like the Skillshop certifications, digital marketing certifications can advance your career. They confirm your knowledge and help you to stand out from the competition when looking for jobs or customers.
Digital marketing certificate programs are taught by experienced digital marketers and professional organizations. The more reputable the certification provider, the more valuable the certification.
Check out our guide to digital marketing 
certifications 
. It outlines the 10 best digital marketing certifications, including the content and cost of the course.
Google Garage Digital
Google Digital Garage is a learning platform full of online courses. The catalog contains a mix of courses created by Google and others by third parties.
Google courses are free and cover a wide range of digital marketing, technology and business topics, including:
Basics of digital marketing

Get a business online

Make sure customers can find you online

Promote a business with online advertising

How to improve and protect your online campaign

Understand the basics of the code
You can earn a certification when you complete the Digital Marketing Fundamentals course .
The course consists of 26 modules, each containing a mix of videos, hands-on exercises and real-world examples.
There are around 40 hours of material to study at your own pace.
After completing all modules, you must pass a 40-question exam to receive the certificate.
The certificate can be useful for beginners as it shows that you understand the core concepts of digital marketing.
Google Analytics Certifications
Google Analytics certifications show you know how to use Google Analytics to analyze and act on data to improve your business' performance.
Once you master the platform, you will understand:
data collection

Conversion and Mapping

reports

readings

Dimensions

How to configure properties and views
The individual Google Analytics qualification is available in the Skillshop in the Analytics Academy.
There are two courses, each with about an hour of material, that you may want to watch to prepare for the exam.
The assessment consists of 70 questions. There is a 90 minute time limit and you need 80% to pass.
Google Ads Courses
Google Ads is a robust advertising platform and there are separate courses that provide more detail on the topics covered in the Skillshop courses.
Good Google Ads courses typically cover:
How to set up and manage your accounting

Here's how to target the right keywords

Bid Strategies

Budgetoptimierung

How to create effective ad creatives

Google Ads campaign examples
You can find quality Google Ads courses here:
Udemy

Alison
Chartered Institute of Marketing
Facebook Blueprint Certifications
Facebook Blueprint is a professional training and certification program from Facebook.
The courses explain how to use the Facebook advertising platform.
The certifications are some of the most rewarding digital marketing certifications you can pursue.
Here are the available Facebook Blueprint certifications:
Digital Marketing Associate

Marketing Scientist

Creative strategy professional

media planning professional

media buying professional

Marketing Developer

Advanced Marketing Developer

Advertising API Developer
All Facebook Blueprint courses are free. The exams, on the other hand, are subject to a fee. This fee varies depending on the level of the exam. Professional exams are $150 and Associate exams are $99.
The exam process is a bit more thorough than other digital marketing certifications. You must schedule a proctored online test or visit the final test center.
During the exam, you cannot have open materials such as notes in your test areas.
The test is scored from 300 to 1,000. A score of 700 or higher is required to pass.
After completing the certification, you will receive a digital badge that you can present on platforms such as Linkedin.
Google Professional Certificates
Google offers professional training and certifications for in-demand careers.
No prior knowledge is required to register and you can learn the material at your own pace.
Professional certificates are available in the following categories:
IT support

data analysis

project management

UX-Design

Android development
Courses for each certification are delivered through Coursera. They contain a mix of readings, videos, assessments and hands-on activities.
To enroll in a certification program, you must enroll on the relevant Coursera page.
All certifications offer a full seven-day free trial. After that, there is a monthly fee of $39 to have access to the courses.
Each certificate takes about six months if you study 10 hours a week. Because you pay a recurring fee to access the courses, the faster you complete certification, the lower the cost.
Once you complete the course, you will receive an online certificate with a shareable link.
Google's professional certificates can be a valuable investment. According to Google, 82% of Career Certificate graduates have a positive career event, such as a new job or promotion, within six months.
diploma
Google Skillshop is a rewarding platform for digital marketers looking to advance their careers.
The courses are easy to follow and provide in-depth analysis of using various Google solutions.
You can earn certifications in various areas of Google marketing that validate your skills to employers or clients.
Also, Skillshop is completely free. You can attend the courses at any time and the certification exam is free.
All you have to do is sign in with your Google account and check the courses.
Whether or not you decide to pursue a Skillshop certification, there are many viable online training tools for digital marketers to expand their knowledge.
---
Important Links