Avail Huge Subsidy on Home Solar Systems When You Go Solar with MYSUN
MY SUN, 1 week ago
2 min

read
19
The government of India has taken a highly progressive step in the direction of democratizing rooftop solar across Indian homes and residential sector.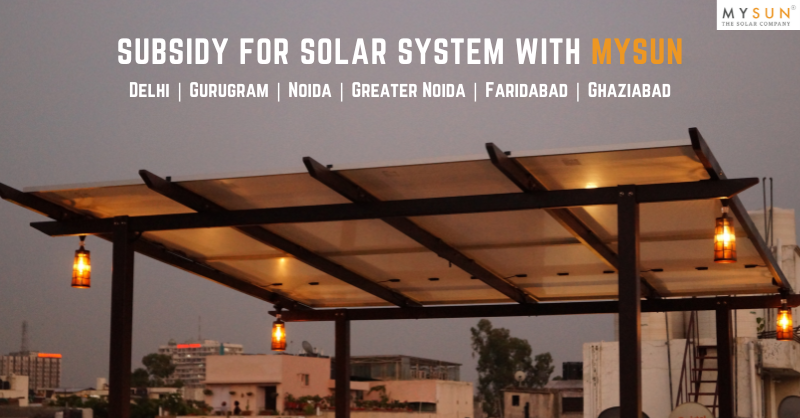 A National Portal (https://solarrooftop.gov.in/) for Rooftop Solar was launched last year. On this portal, any residential consumer from any part of the country can benefit from subsidy cashback that directly gets credited to the consumer's bank account in a highly transparent and efficient manner.
The subsidy cashback through this national portal is common for the entire country across all cities; be it south, north, or western India.
Individual households can get solar subsidy cashback up to Rs 94,822/- directly into their designated bank accounts.
In addition, Resident Welfare Associations/ Group Housing Societies (RWA/ GHS) can also benefit by installing rooftop solar for their common facilities up to 500kWp @10kWp per house. The subsidy amount for them is Rs 7294/kW. This means that an RWA or GHS having at least 50 homes/ apartments/ flats can install a 500kW rooftop solar system and can get a subsidy cashback of Rs 36,47,00 (subsidy cashback of Rs 37 lacs approx).
MYSUN, India's leading home solar solutions technology company, which also runs one of India's largest online rooftop solar platform (www.itsmysun.com) has made it easy and reliable for home consumers to go about their entire solar journey and the subsidy cashback process in a highly transparent and efficient manner. Thousands of consumers are benefiting from MYSUN's digital solar platform for their solar journey. Homeowners can click on MYSUN's highly advanced Savings Calculator and within 5 seconds can get a free report on their solar savings. They can also avail of MYSUN's zero-cost EMI schemes or low-cost upto 36 months EMI plans. MYSUN has taken a pioneering step in solar financing for the residential sector and homeowners.
MYSUN has also designed its premium product range ARBOR Light, ARBOR, and CANOPAS in such a manner that its clients can now get subsidy cashback on this premium range of solar pergola systems too.
Source Url- Avail Huge Subsidy on Home Solar Systems When You Go Solar with MYSUN
MY SUN
MYSUN is India's largest online rooftop solar company with operations in multiple states in North, Central and Western India. The company provides most advanced technology and highest quality solar services in Delhi, Ghaziabad, Gurgaon, and Noida among others across residential, industrial and commercial categories. Positioned as a Solar company in India, MYSUN has strong Solar rooftop services in Delhi NCR.