Benefits of Syncing Outlook and Dynamics 365 CE to Visualize Appointments
AppJetty, 2 months ago
3 min

read
51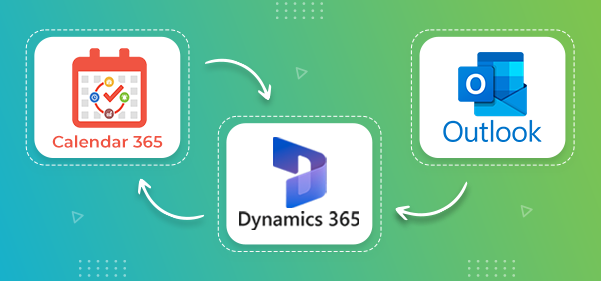 Yes, it is very much possible to sync Outlook with Dynamics CE. This synchronization helps customers visualize all the Outlook appointments along with Dynamics 365 CE activities on Calendar 365.
Collison-free scheduling and collaboration are essential for teams to maximize productivity. With Calendar 365, teams can now enjoy a consolidated and comprehensive view of all booked appointments from both Dynamics 365 CE and Outlook.
This synchronization has numerous benefits for users, like:
Assigning new activities to resources

Analyzing resource availability

Having a complete view of all the activities and their priorities

Overdue activities

Analyzing delays

Understanding resource burnout
Users are able to view different activities with a color coding approach where different color is assigned for a different activity.
Let's explore how Dynamics 365 Calendar transforms how teams manage their schedules by syncing Outlook Calendar to Dynamics 365 CE.
Comprehensive View
The team calendar view in Calendar 365 displays all appointments from Outlook if you have it in sync with Dynamics 365 CE.
Team members can easily access a unified view of their schedules, eliminating the need to switch between different tabs.
It helps teams to avoid potential conflicts like double bookings, track the status of ongoing activities, quickly see overdue tasks, and much more. Within a few clicks, managers have all the activities going on different projects.
Thus, this integration ensures you efficiently utilize your time and minimize scheduling errors with a comprehensive view.
Improved Collaboration
The team calendar view in Calendar 365 promotes better collaboration within the team. By having visibility into everyone's appointments, team members can easily identify each other's availability and plan meetings or schedule joint activities accordingly. It makes the appointment booking process faster.
This encourages coordination and efficient teamwork, enabling teams to work seamlessly together towards common goals. It improves task organization and management which is extremely helpful when working remotely. The deadlines can be tracked easily and you can ensure that the important tasks are delivered on time.
Time and Resource Optimization
With Calendar 365, teams can optimize resources. Calendar 365 makes it easier for managers to go through their team member's schedules, like when they are available, assigned tasks, priorities, and much more.
Outlook appointments are synced with Dynamics 365 CRM, so it will not only save you from double booking but also ensure that resources, meeting rooms, etc., are utilized efficiently.
Managers can visualize what the resources are working on; is there any room for a new task or are all their tasks on track, and so much more?
Conclusion
Calendar 365 revolutionizes team scheduling with a comprehensive view of appointments from Dynamics 365 CE and Outlook.
With Calendar 365, you get:
Seamless synchronization

Improved collaboration

Enhanced user experience

Time and resource optimization

Streamlined schedule

No meeting conflicts

Enhances productivity.
Experience the power of Calendar 365 and unlock the potential of unifying Outlook and Dynamics 365.
All product and company names are trademarks™, registered® or copyright© trademarks of their respective holders. Use of them does not imply any affiliation with or endorsement by them.
This Article is originally published on:
https://www.appjetty.com/blog/sync-dynamics365-outlook/