Kid's Paradise Unleashed: Where Adventure and Gaming Meet
ananyasharma, 4 weeks ago
3 min

read
36
In the heart of excitement and imagination, a realm of endless possibilities beckons the young and young-at-heart – it's none other than an adrenaline-pumping gaming zone. A haven where adventure and gaming entwine, this paradise is a symphony of laughter, thrill, and boundless joy. As the sun paints the sky with hues of wonder, let's hop abroad on a journey where every moment is an adventure waiting to be embraced.
Hangout: Nestled in Saket, Select CITYWALK transcends being merely a shopping haven; it evolves into a family sanctuary. Beyond its alluring aesthetics and diverse range of stores, the mall emerges as a magnet for the fervent shopper. Yet, what sets it apart as an ideal family retreat is its exclusive haven for children's amusement.
The mall boasts a meticulously crafted kids' play zone replete with interactive diversions, slides, and child-centric activities. Here, parents can indulge in retail therapy while their little ones revel in a secure and enjoyable ambience. In addition, Select CITYWALK plays host to an array of events and workshops, making it a perfect place to hangout for kids.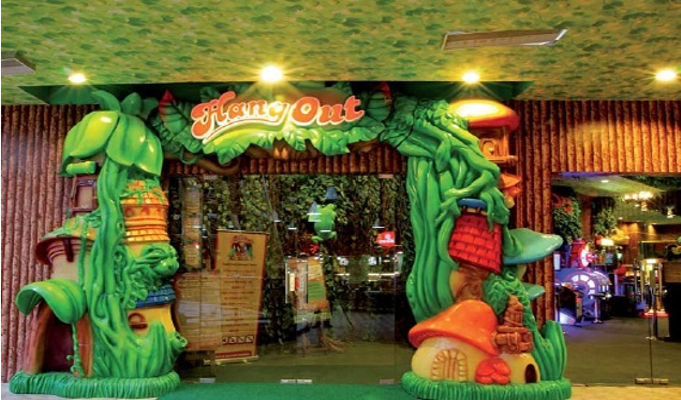 Escape Rooms: Located in Hauz Khas, Escape Rooms presents immersive real-life escape challenges. Locked within themed rooms, you'll decipher clues, tackle tasks, and crack codes to exit within 60 minutes. Currently, the offerings encompass two themes: "Battle of Thrones" with a Game of Thrones motif and "The Quarantine Zone." Your adventure awaits within these captivating scenarios.
Yes Minister: Bowling takes the spotlight here with six lanes, revamped pins, and enhanced graphics. Enjoy a game for INR 300 per person, available every day. Shoes are optional, giving you a Flintstone-style option. Engage in diverse activities: pool starting at INR 350, air hockey, foosball, basketball, boxing, Alien Attack video game, and even a padded mechanical bull ride for the adventurous souls seeking a taste of Spanish sport.
Trampoline Park: Bounce into Delight In a corner where gravity's rules take a backseat, the Trampoline Park is a land of pure exhilaration. Here, leaps and bounds become the norm as kids bounce, flip, and soar through the air. It's a place where laughter echoes with every jump, and where a simple leap can send imaginations soaring. The Trampoline Park is a reminder that joy knows no bounds and that the sky is truly the limit.
Masti Zone, Greater Noida– 
Situated within the expanse of Greater Noida's Grand Venice Mall, the Mastiii Zone stands as a captivating realm of entertainment. With a repertoire of over 150 attractions, this expansive gaming haven offers an exhilarating range of experiences. From the excitement of a bowling alley and the intensity of a shooting area to the intrigue of a haunted house and the immersion of VR games, the Mastiii Zone promises a diverse and captivating adventure for all.
iSkate, Gurgaon- 
Spanning a vast 15,000 sq. ft., this entertainment hub offers much more than just ice skating. With a café, bar, karaoke room, and a state-of-the-art sound and light system, it promises a complete experience.
iSkate's spacious rink comfortably accommodates around 150 individuals, resulting in a delightful mix of personalities. As you cautiously fasten your skates, the scene comes to life with gleeful youngsters darting by, their attempts at balance often accompanied by secret wishes for their friends' gentle tumbles. Amidst the laughter, you'll spot young couples gliding in harmony and families guided by vigilant parents ensuring their children's stability
So, what's stopping you from a having a day brimming with joy, laughter and adventure with your kids? Clear your schedules and visit one or off these spots ASAP!