Overcome Common Field Service Challenges with Dynamics 365 Map
AppJetty, 3 weeks ago
6 min

read
38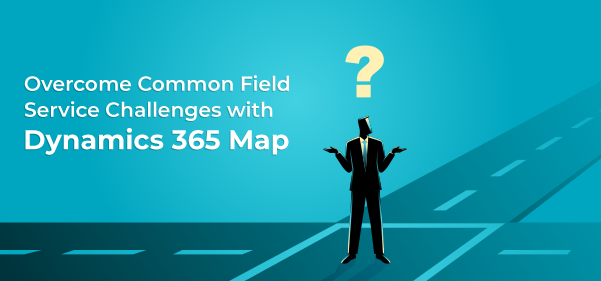 Imagine having to work magic to keep tabs on what's happening outside while you sit in your office. Sales managers often find it challenging to manage their onfield teams while they are in the office.
We identified some common challenges faced by companies and how a geolocation mapping tool like MappyField 365 can help you overcome these challenges.
Identifying Common Field Service Challenges
Field service businesses often encounter a wave of customer complaints when their on-field services fall short.
When customers are disappointed with inefficient services, you would want to fix this issue as soon as possible. Because failure to address such issues can directly impact sales, brand reputation, and customer loyalty. All of these factors are crucial for business growth.
Well, to keep customers happy, businesses must go beyond just solving issues. They must enhance the overall experience of their customers.
Efficient field service processes lead to better customer service. Here, the focus is not solely on customer happiness, but it also involves keeping field resources happy.
Your employees spend their entire day on the road to ensure all the inquiries are fulfilled properly. But visiting one place to another is exhausting and loaded with surprises like traffic, road closures, personal or vehicle emergencies, and whatnot.
Due to this, businesses face challenges in field service management, especially in monitoring field teams effectively. It's impossible to oversee on-field staff activities from the office, making it challenging to detect process flaws. This lack of insight into execution can hinder the realization of planned strategies.
Sales representatives encounter various daily challenges, and their efforts to manage their schedule, despite that, often go unnoticed due to the absence of digital records.
For instance, a sales rep may face delays caused by unexpected roadblocks. These situations can lead to missed appointments, even though the reasons are valid. Hence, addressing scenarios is essential for improving service quality.
Overcome Challenges Only with MappyField 365
1. Route Optimization
MappyField's Route Optimization feature is a valuable tool for businesses with field sales teams. It intelligently calculates and displays the most efficient route that connects all the client locations sales reps has to visit.

The primary goal is to minimize unproductive time and mileage. When sales reps don't have to backtrack or zigzag across the same area, they can spend more time with clients, which is crucial for building strong relationships and closing deals.
Dynamics 365 map also considers real-time traffic data and road conditions, avoiding congested roads and roadblocks. This proactive approach helps prevent delays, ensuring that sales reps arrive at their appointments on time.
2. Territory Management
MappyField's Territory Management feature simplifies the task of creating and optimizing sales territories. Businesses can define territories using various methods, such as drawing custom shapes on a map or specifying geographical regions.

Effective territory management is not just about evenly distributing the workload; it also helps with targeted marketing campaigns. When accounts are organized into logical territories, businesses can direct their sales efforts more effectively.
This feature also streamlines the process of managing sales territories. By ensuring that accounts within a territory are in close proximity reduces the time and effort spent on traveling between clients.
3. Live Tracking:
MappyField provides real-time tracking capabilities, allowing businesses to monitor the location of their field resources as they move about. This feature offers several advantages

Users can view the live location of their sales reps on a map, along with the routes assigned to them. This helps confirm that sales reps are following the prescribed routes and are on track to meet their appointments.
Live tracking is particularly beneficial when a new lead or opportunity arises. With real-time location data, businesses can quickly identify the nearest available sales rep to seize the opportunity and respond promptly to potential clients.
4. Auto Check-in/out:
When a sales rep arrives within a specified radius of a client's location, the system automatically checks them in for the appointment.

If the sales rep is required to perform a manual check-in, they must provide a reason for the delay. This information is then sent to their respective manager for approval.
Managers can access this information in real-time, which enables them to keep a close eye on appointment punctuality and make informed decisions. The feature also allows sales reps to add attachments, notes, or other important information, enhancing transparency and record-keeping for future strategies and improvements.
Testimonials
"From the moment we engaged with Biztech, it was evident that their collaboration was built on trust, innovation, and a shared commitment to customer success. With our combined expertise and deep understanding of Dynamics 365, we are able to deliver tailored solutions that meet the business requirements for our customers. This partnership has truly elevated our digital transformation journey and positioned us for continued success in the ever-evolving business landscape."
                                                                                                                                                                        – Franck AMIZET
Awesome application allowing both sales representatives and sales managers to have an overview of the different sectors they manage. User-friendly configuration panel and easy to use as mapping tool. At last not the least, a competent and helpful support team and developers quick to answer.
                                                                                                                                                                               – Cindy KOST
For more testimonials and information about MappyField 365, visit www.appjetty.com/dynamics365-mappyfield-365.htm
You can also book a personalized Demo with our product experts. It will give you a better understanding of the product as per your use case and requirements. Email us at [email protected] or visit our website www.appjetty.com.
All product and company names are trademarks™, registered® or copyright© trademarks of their respective holders. Use of them does not imply any affiliation with or endorsement by them.
This Article is originally published on:
https://www.appjetty.com/blog/field-service-challenges-dynamics-365-map/