The Best Shade Sails for Your Backyard
Mike Warner, 1 month ago
4 min

read
124
When the sun is high in the sky, and the temperature is soaring, it's essential to have a relaxing, shaded area in your backyard where you can enjoy the outdoors without worrying about harmful UV rays. One of the best ways to create this paradise is by installing shade sails. These modern, stylish, and practical accessories are perfect for turning an open outdoor space into a cozy, cool, and comfortable haven. With the right shade sail, you can transform your patio or garden into the perfect spot for summer barbecues, family gatherings, or just a lazy afternoon with a good book.
The Importance of Shade Sails
We all love basking in the warm sun, but too much exposure can be harmful. This is where shade sails come into play. They provide valuable sun protection, blocking up to 98% of harmful UV rays, making your outdoor space safer and more enjoyable.
Moreover, shade sails are not just functional; they also add an aesthetic value to your property. They come in various shapes, sizes, and colors, allowing you to customize your outdoor design. Whether you want to create a romantic, cozy corner or a vibrant, lively gathering spot, shade sails can help you achieve the desired look.
What to Look for When Buying a Shade Sail
When it comes to picking the perfect shade sail, consider the following factors:
– Material: Opt for durable, weather-resistant fabrics that can withstand harsh sun, strong winds, and heavy rain.
– UV Protection: The primary purpose of a shade sail is sun protection. Look for products that offer high UV protection.
– Size and Shape: The size and shape of the shade sail should match your outdoor space. Rectangular and triangular sails are the most popular.
– Installation: Choose shade sails that are easy to install and come with necessary hardware.
– Color: This is a personal preference. However, lighter colors tend to reflect heat better.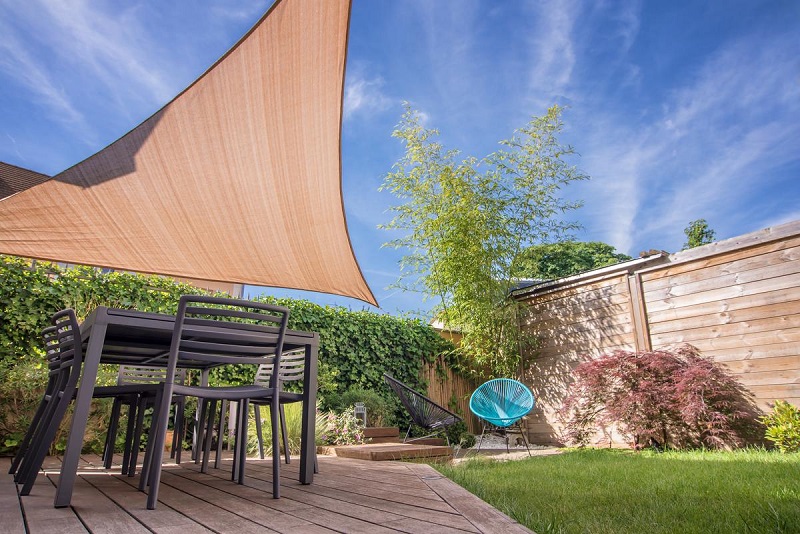 Understanding Shade Sails
Shade sails, also known as sun sails, are a practical yet stylish way to shade your outdoor areas. They are designed to "sail" over any outdoor space, much like a ship's sail, blocking out UV rays and reducing heat. They come in a variety of shapes, sizes, and materials, each offering unique benefits.
The 8 Best Shade Sails for Your Backyard
1. Coolaroo Ready-to-Hang Triangle Shade Sail Canopy: Known for its exceptional UV protection and breathability, this shade sail is easy to install and durable.
2. LOVE STORY Triangle Sand UV Block Sun Shade Sail: This product stands out for its high-density polyethylene fabric, which offers 95% UV protection and allows for air circulation.
3. Windscreen4less Sun Shade Sail in Square Canary Yellow: This shade sail not only adds a pop of color to your backyard but also provides a 95% UV blockage.
4. Artpuch Sun Shade Sails Canopy: This rectangle shade sail is known for its high-quality, weather-resistant fabric.
5. ShelterLogic Triangle Sun Shade Sail: This product is praised for its durable, woven, high-density polyethylene material that provides excellent sun protection.
6. SUNNY GUARD Square Sun Shade Sail: With its robust design and 95% UV blockage, this shade sail is a crowd-pleaser.
7. Patio Paradise Sun Shade Sail: This shade sail is applauded for its ability to provide up to 90% shade and block harmful UV rays.
8. ColourTree Square and Triangle Sun Shade Sail: This product is loved for its versatility, durability, and 95% UV protection.
Installation Tips for Shade Sails
Installing shade sails is not as daunting as it may seem. You will need to consider the size and shape of the sail, the strength of the installation points, the direction of the sun, and the angle of the sail. With some planning and the right tools, you can have your shade sail up in no time.
Maintenance and Care for Your Shade Sails
Shade sails are designed to be low-maintenance. However, to ensure longevity, it's essential to clean them regularly, check for wear and tear, and take them down during severe weather or winter months.
Creative Ways to Use Shade Sails in Your Backyard
Shade sails are not just for providing shade. They can be used to create a visually striking element in your backyard, divide different areas, or add a touch of elegance to your outdoor dining area.
Conclusion
Selecting the best shade sail for your backyard depends on your specific needs and preferences. Whether you prioritize UV protection, durability, or style, there is a shade sail out there for you. With proper installation and care, a shade sail can be a fantastic addition to your backyard, making it a comfortable and stylish space to enjoy all year round.